The Festival of Derivatives (7 Dec 2022, online event)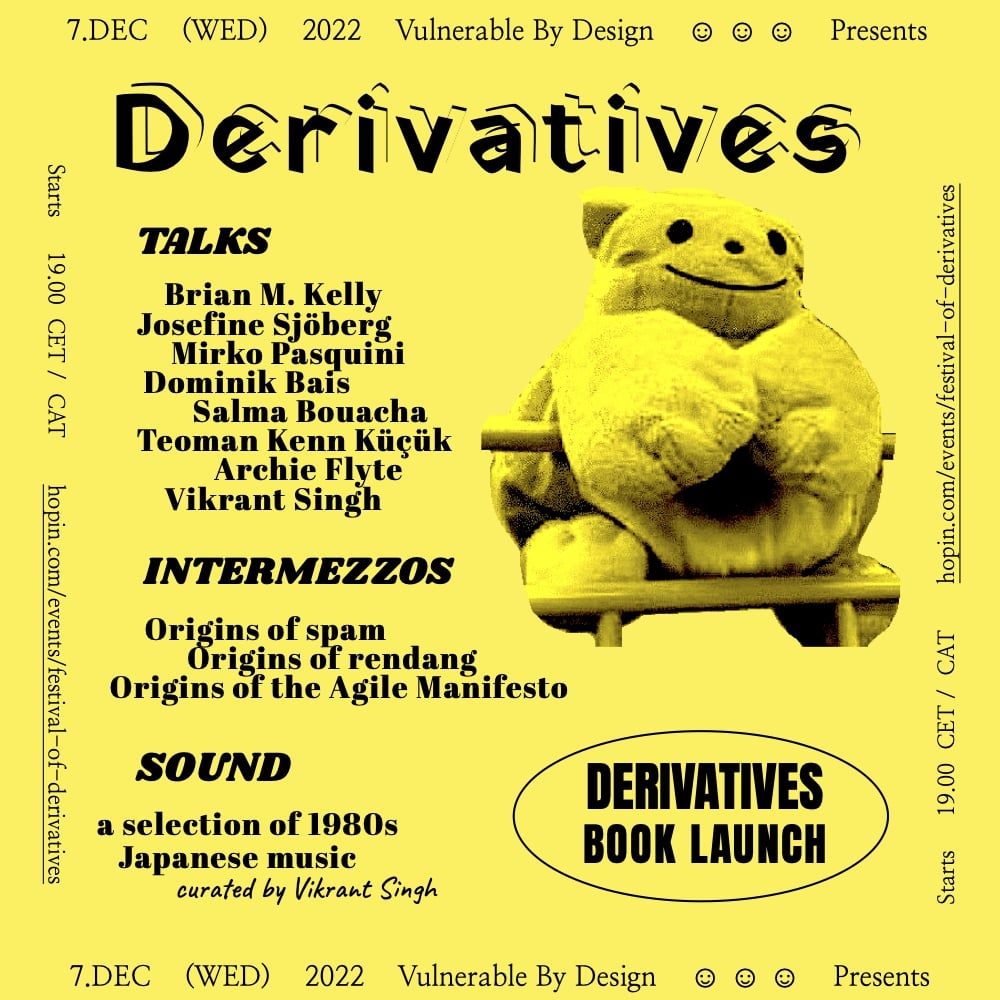 Copies and derivatives are everywhere. Culture would not be without people duplicating, adapting and creating ripoffs of existing material. Yet at the same time paywalls and extractive licensing schemes do much work to block off copying. And somehow certain works are still labelled 'original', and it's generally only those supposed 'originals' that get prized. How do we move on from here?
The Festival of Derivatives celebrates all things original and copy.
Schedule
Opening & Welcome
Derivatives book launch: README.md
Chris Onrust Meyns
Studio Copy Right
Brian M. Kelly
The making of forged documents in 19th-century Finland
Josefine Sjöberg
Intermezzo I: Origins of spam
What is appropriate? "Inappropriate users" reshaping access to care within an Italian Emergency Room
Mirko Pasquini
OpenSource Archive
Dominik Bais
Intermezzo II: Origins of rendang
Rewriting the Picaresque Genre in Güneli Gün's On the Road to Baghdad: A Picaresque Novel of Magical Adventures, Begged, Borrowed and Stolen from The Thousand and One Nights (1991)
Salma Bouacha
Paradise Lost: The Transformation of the Discipline of Philosophy from Generative Heuristics to Secular Exegesis
Teoman Kenn Küçük
Intermezzo III: Origins of the Agile Manifesto
Love Letters in Analysis
Archie Flyte
On derivatives and original difference in 1980s Japanese music
Vikrant Singh
Closing words
Bonus: A selection of 1980s Japanese music, curated by Vikrant Singh
Contact
Any questions? Contact Chris Onrust Meyns.
The Festival of Derivatives celebrates an inclusive, welcoming festival experience for everyone. That means we're dedicated to providing a harassment-free conference experience for everyone, regardless of gender, gender identity and expression, age, sexual orientation, disability, physical appearance, body size, race, ethnicity, religion (or no religion), or technology choices.